Tablerunner- Karen's Hospitality : IV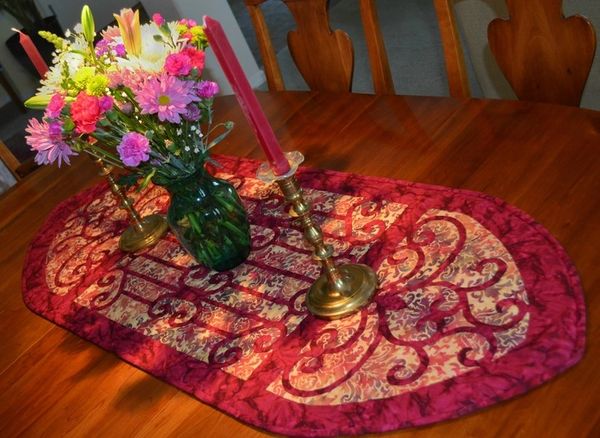 Welcome! Enjoy Gracious Hospitality At Our Table....
(20" x 52.5")
Set your table with this stunning runner that is reminiscent of a wrought iron gate or a cathedral window, with its hearts and scrolls and tapered ends. The elegance will invite your guests to relax and be graciously entertained by you. Have fun selecting fabrics that adorn the beauty of your dining room, and make your dinner guests feel at home. Pattern has complete creation instructions using Eye of the Beholder's Trace, Baste, Snip & Stitch for hand, and Trace, Snip, Iron & Stitch for machine, supported by Technique Tutorials and blogs on this website, and full-size, durable pattern pieces. There's never a need to enlarge the pattern or re-position fabric. Just tape the two halves together.
finished dimensions: 20 in x 52 1/2 in
materials required:
background fabric: 1 2/3 yds (22 in x 60 in) of light to medium fabric
top and backing fabric: 1 2/3 yds (22 in x 60 in) of medium to dark fabric
batting; 1 2/3 yds (22 in x 60 in)
binding: 1 yd (I used the top fabric for mine
for machine applique version: you will also need 1 2/3 yds of fusible webbing