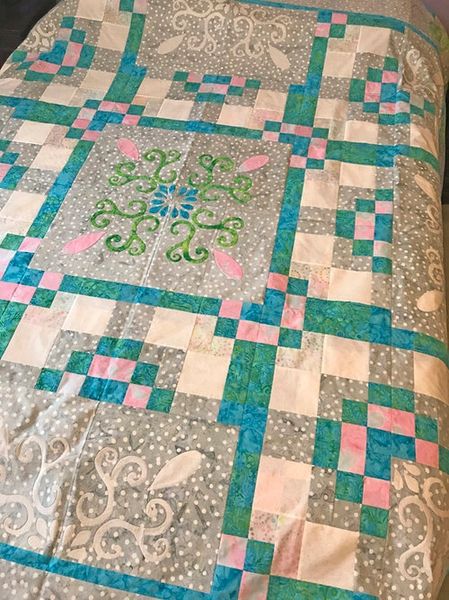 Breezy, Fragrant And Fresh
Reverse appliqué and appliqué pattern – instructions for hand or machine and machine piecing
(98" x 98")
Get a fresh breath of air with the soft, breezy Spring Breeze quilt (98" x 98"). We made ours in grey with white dots, turquoise, and green batiks, with just a touch of pink from Batik Textiles. This California king-size quilt boasts 12 reverse applique and 16 applique blocks, all 12"x 12", mixed with the pieced Domino block. For quilters of all ability levels, you choose how you want to make it. The applique and reverse applique blocks can be created by hand or machine, using Eye of the Beholder's easier Trace, Baste, Snip & Stitch method for hand, or Trace, Snip, Iron & Stitch method for machine. Pattern comes with extensive step-by-step, pictorial directions for all creation methods, and full-size, durable pattern pieces. No need to enlarge the pattern or re-position fabric as you trace. Check out our Technique Tutorials and blogs for more help.
You get:
Complete creation instructions for hand or machine reverse applique, applique and machine piecing.

Full-size pattern pieces for Lace Flourish block(12" x 12")

Finished dimensions: 98 in x 98 in

Designed for Batik Textiles Spring 2018

Materials required:

Gray with white dots (4229) - 6 1/3 yard
White with Dots (4234) - 2 1/4 yard
Turquoise Dragonfly (4222) - 3/4 yard
Turquoise Swirls (4224)- 3/4 yard
Pink Dots (4227) - 1/2 yard
Pink (5010) - 1/2 yard
Dark Turquoise (5159) - 1 3/4 yard
Green (3547B) - 1 1/8 yard
Backing Fabric: 106 in x 106 in: 9 yards (pieced), or 3 yards (106" wide back)

For Machine Applique Version Only: Soft Fuse Iron-on fusible in the following amounts:

2 yards x 37", or 4 yards x 18"