Soft Delight ( Blouse ) pattern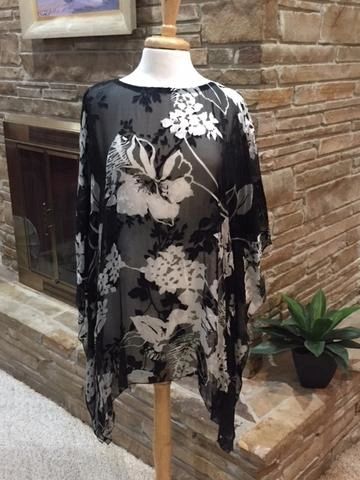 Rectangle of fabric with a wide neck template.   Learn a secret way to control uncontrollable fabrics.
A Delight to sew!    A Delight to wear!
Watch a video on how to set up a rolled hem 
Open neck instructions 
I used Dime's – "Simple to Chic T-shirt Remakes" (style Zoe).  Here are the steps I did.
#1  Embroidered on a plain contrasting fabric so it would stand out.
#2  Used the stitched outline of the embroidery (outside edge) to know where to turn the edge under (pressed).
#3  Applied the facing RIGHT side against the WRONG side of center front blouse neckline.
#4  Stitched on the location for the front slit (embroidery line is stitched in with embroidery).  Pressed.
#5  Turned facing to the front.  Pressed.
#6  Stitched the edge of the facing to the blouse front.
#7  Finished the neck with a 1  1/2″ wide bias  strip and turned front edge down.
#8  Made a cord thread on the serger by stitching out a 3 thread rolled hem on air and with a needle pulled serged cord through the neck point and tied beads at the bottom.