Slimming Jacket seminar (you tube how to video)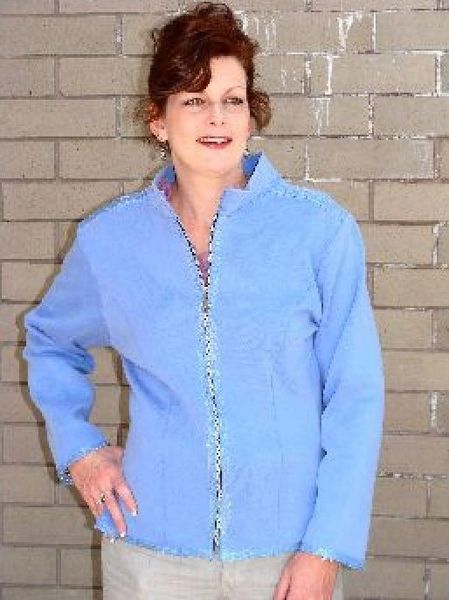 "When opportunity knocks open the door" , that's how I feel about teaching , it's me be given the opportunity to teach ..
Creating a slimming jacket
Students will Learn to draft their own pattern pieces to modify an over sized sweatshirt. We will go from sloppy joe to Trim n' Fit , creating fitted shoulders , zipper fronts , stand up collars, and of course curve appeal for a shape that compliments your figure , and in the process we will shave off 5 to 10 lbs ! Create a truly contemporary classic fit ! For new sewers to seasoned sewers this is the class for all . No fancy tools with chalk , tissue paper , ruler or measuring tape and an iron . This will be the best hour you will spend .
You will leave this class, with the knowledge to change or up cycle some existing clothes as well ! here is a 4 part video of changing the sweatshirt to fit you. Call us to set up a class for your guild or at your house we only need about 8-10 people and I will come in. Check out our jackets , we have the sweatshirts , zippers and patterns 816-673-9081 or email us .
http://s61.photobucket.com/user/santa4u_2006/media/1slimming%20jacket.mp4.html http://vid61.photobucket.com/albums/h52/santa4u_2006/1slimming%20jacket.mp4 video