Rose:2 of 9 pillow/block 16x16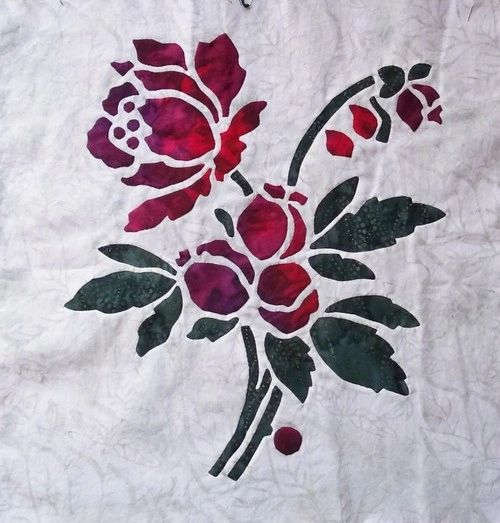 Lay Your Head And Dream Of Love.
applique and reverse applique pattern - hand and machine directions
(16" x 16")
The second block in the Victorian Flower Garden Quilt series (9 blocks in total to make up a quilt) - Collect all 9 - 16" x 16" blocks and make a quilt. Choose vibrant reds for love and passion, or friendly yellows for peaceful companionship.
Create this block and turn it into a pillow to bring a touch of loving romance into your boudoir, or make it as a block to fit into a quilt. Add the Victorian Flower Garden Quilt IV Expansion pattern - with an applique wrought iron gate to sash and border your lovely garden of flowers to make the Victorian Flower Garden Quilt IV.
Bring a touch of Spring & Summer inside.
Rose is a small, lovely project for a first foray into the world of reverse needle-turn applique - perfect for beginning quilters.
Pattern includes all three directions for creation.
Reverse applique by hand
Reverse applique by machine
Mix the two for extra 3D effect: reverse applique the stems and leaves, then applique the flowers to make them really pop.
finished dimensions: 16 in x 16 in
materials required:
background fabric: ½ yard (18 in x 18 in)
top fabric: ½ yard (18 in x 18 in)
3-colour applique and reverse applique version: add fat quarter or scraps for blossoms
batting: ½ yard (18 in x 18 in) [for blocks, this is not needed until you stitch the whole thing together]
for machine reverse applique: you will also need ½ yd (18 in x 18 in) of fusible webbing
for pillow version: 16 in x 16 in pillow form