50% OFF WHILE SUPPLIES LAST !!!! MINIMUM PURCHASE IS 2 IF THAT IS YOUR ONLY PURCHASE -Decolourant - removes dye from fabric , paper, and more ( 8oz. bottle)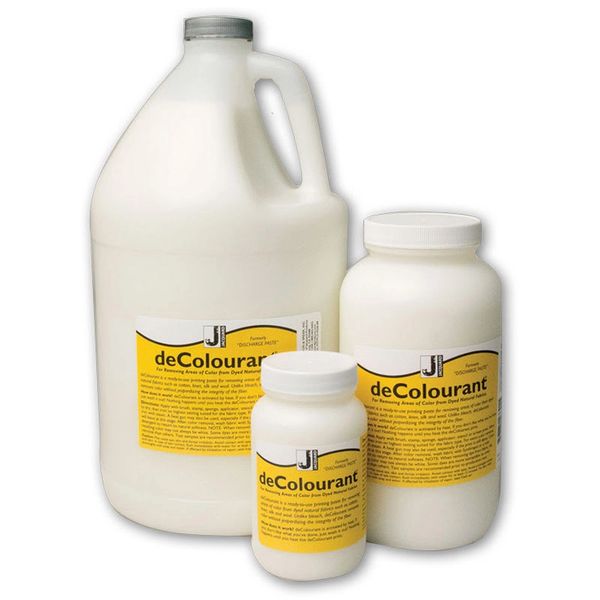 50% OFF , MINIMUM PURCHASE OF 2 BOTTLES , !! WHILE SUPPLIES LAST !!    DONT NEED 2 BOTTLES ?I TOTALLY UNDERSTAND ,  SO ADD TO YOUR PURCHASE TO CREATE AT LEAST A $10 MINIMUM PURCHASE  THAT INCLUDES ONE BOTTLE .        THATS TWO WAYS TO GET THIS PRODUCT HALF OFF !  
iF YOU HAVE NOT TRIED THIS YOUR MISSING OUT , ALL OF THE FABRICS PICTURED WERE SOLID COLORS , WE CREATED THE PRINT  AND THEY ARE ALL OUR WOOL FELTS !
Decolourant ( also called Catch and release ) discharge paste (CALL IF LARGER SIZES ARE NEEDED ) 
Our wonderful dye remover is one of the best on the market , it not only removes the dye but you only have to rinse out the remains with water , no special chemicals needed to remove it .  Its a great way to take fabric that has not print become a work of art and uniquely yours. It works for scrap book papers as well .  You paint it on using stencils or free handed , wait for it to dry then steam iron it out of fabric the more steam the better and it will remove the dye in levels , so you can decide when you want it to stop , maybe you just want a lighter version of the dye to add a slight contrast  or take it all the way to the natural color of the fabric.
 Make sure to test in an inconspicuous place to know what you have underneath , sometimes its wonderful and sometimes not so much ;( so if you come upon a fabric that you don't like the color of the original fabric , it's okay you can still use it , all you have to do is  add your favorite fabric paint  make a 50/50 blend of fabric paint and catch and release liquid paint it on , let dry and steam iron it out , what happens is that the dye is removed still but the color you added replaces it all with the shot of an iron .  How cool is that ;) . 

If you are working on papers then when you iron it do not use steam just the hot iron , put it on the papers and move it around constantly so not to burn the paper ,( Video) https://www.youtube.com/watch?v=kvKbWUwbk4M