Medallion- Scroll & Fan :III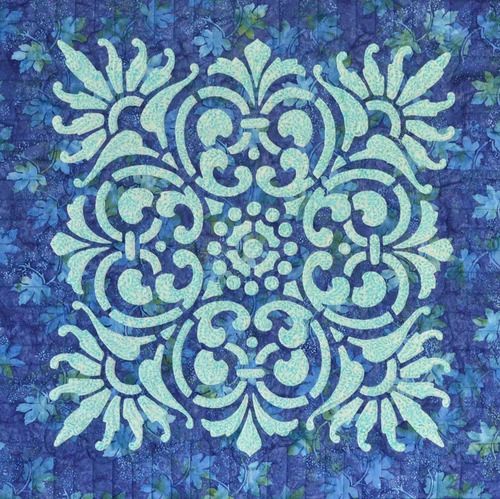 Graceful scrolls bursting into fans.
Reverse appliqué pattern – Hand & Machine directions
(36" x 36")
Reminiscent of the lines of scrolls and fans, this pattern is part of our medallion pattern series.
From a time when people embraced the idea of beautiful functionality, these quilts could make a beautiful wall-hanging. It would also work stunningly as the center piece medallion of a bed-size quilt.
These reverse appliqué projects are inspired by the scrollwork, gratings and architecture of the late 1800s.
This medallion forms the center medallion of the Fit for a Queen queen-size quilt. When making the quilt, follow the directions in the Quilt Expansion III pattern-Scroll & Fan finishes at 40.5" x 40.5". Add the Quilt Expansion pack if you already have the medallion, or get the Quilt to get the medallion plus all the lovely borders and sashing instructions.
Finished dimensions: 36 in x 36 in as Wall hanging*
*If making Scroll & Fan as the Centre Medallion in the Fit for a Queen Quilt III, please follow the instructions in your quilt pattern. The medallion finished size is: 40.5" x 40.5".
Materials required:
Background Fabric: 1 ¼ yard (or a piece 42 in square) or 1 ¾ yards if using to bind the quilt
Top Fabric: 1 ¼ yard (or a piece 42 in square) or 1 ¾ yards if using to bind the quilt
Backing Fabric: 1 ½ yard square
For Machine: 1 ¼ yard paper backed fusible material, such as Soft Fuse
Please note:
For the hand version of this quilt, it is very important to use a light background material which will assist you in tracing the medallion pattern onto the fabric.
Instructions are also included in this pattern for assembling it by machine; for this version of the pattern, you can use dark or light materials for your background.