Medallion-Remembrance:XIV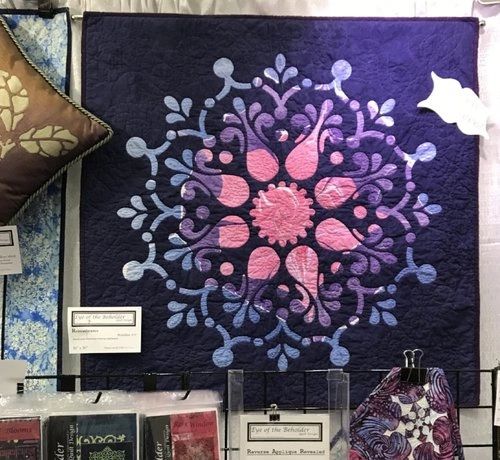 "You Keep Track Of All My Sorrows. You Have Collected All My Tears In Your Bottle." - Psalm 56:8
Reverse appliqué pattern – Hand & Machine directions
(36" x 36")
Remembrance is a beginning level medallion inspired by Victorian wrought iron work that has open spaces to feature your beautiful fabrics. Batiks or hand-dyes alike will bring this pattern to life. We chose a hand marble background and a Cherrywood Fabrics top for our hand sample, and an Malaysian Art panel from Turtle Hand Batiks for the top of our machine sample. Your fabric choices will make it come alive with your own unique style.
Make it as a beautiful wall-hanging, or design a quilt around it with Remembrance as the center medallion.
Pattern has complete creation instructions using Eye of the Beholder's Trace, Baste, Snip & Stitch technique, supported by Technique Tutorials and blogs on this website, and full-size, durable pattern pieces. There's never a need to enlarge the pattern or re-position fabric.
Finished dimensions: 36 in x 36 in
Materials required:
Background Fabric: 1 ¼ yard (or a piece 44 in square) of light fabric**
Top Fabric: 1 ¼ yard (or a piece 44 in square) of medium to dark fabric
Backing Fabric: 1 1/4 yard (or a piece 44" square)
Binding: 1/2 yard (4 strips)
For Machine: 36" x 36" square paper backed iron-on fusible, such as Soft Fuse
Please note:
For the hand version of this quilt, it is very important to use a light background material which will assist you in tracing the medallion pattern onto the fabric.
**Instructions are also included in this pattern for creating it by machine; for this version of the pattern, you can use dark or light materials for your background.