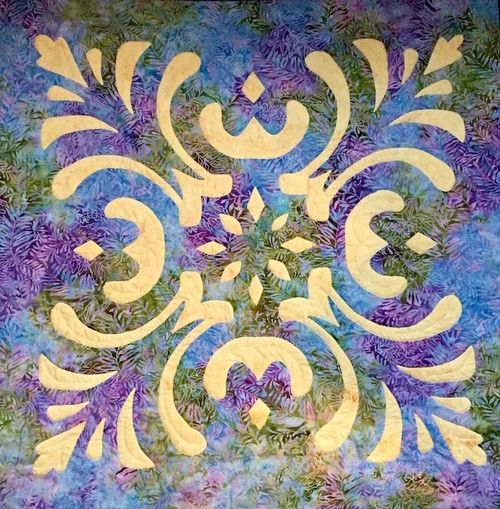 Majesty. Worship His Majesty.
Reverse appliqué pattern – includes instructions for hand and machine
(36" x 36")
Floral swirls - big and bold or sweet and surreptitious)
We're pleased to partner with Island Batik fabrics on this new pattern.
Island Batik materials used:
The spring colourway of Majesty uses their Meadow Collection. Shown in 111501012 (top fabric) and Vanilla neutrals for the background.
The vibrant colourway uses their Flower Fields Collection. Shown in 111516171 (top fabric) and Bluebird for the background. Three-colour binding uses Bluebird, 111505170, and 111517167.
finished dimensions: 36 in x 36 in
materials required:
background fabric: 1 ½ yds (or 44 in square piece) of light fabric*
top fabric: 1 ½ yds (or 44 in square piece) of medium or dark fabric*
backing fabric: 1

½ y

ds (or 44 in square piece)

batting: 1 ½ yds (or 44 in square piece)
binding strips: 4 strips - 2.5 in x 44 in (or 1/2 yd)
for machine applique only: 20 in x 60 in piece of paper-backed iron-on fusible webbing
*when making by machine, you can use a dark for your background fabric and/or a light fabric for your top.