Medallion- Christmas Berries :VII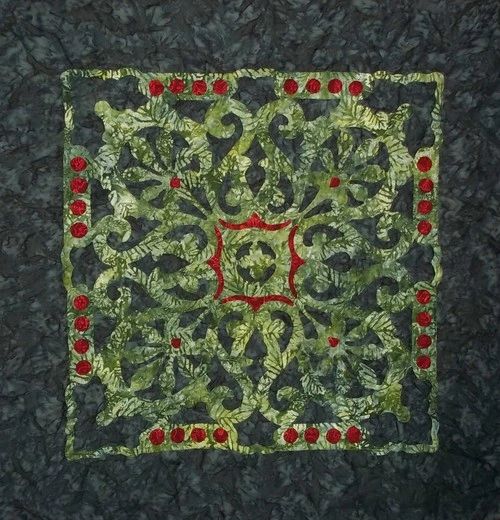 Celebrate With Victorian Style. A Suggestion Of Poinsettias, Punctuated With Red Berries.
Reverse appliqué pattern – includes instructions for hand work only
(39 3/4" x 40 1/4")
'Tis the season...to get ready for Christmas!
Make this simple, yet effective, appliqué pattern to grace your dinner table or create your own festive spirit of cheer by using it as a wall-hanging.
Same great pattern, two options. Choose new packaging with vector draw pattern piece, or old
Finished dimensions: 39 3/4 in x 40 1/4 in
Materials required:
Background Fabric: 1 1/4 yd (or 42 in square) of light to medium fabric
Top Fabric: 1 1/4 yd (or 42 in square) of dark fabric
Accent Fabric: 3/4 yd

Backing Fabric: 1 1/4 yd (or 42 in square)

Batting: 1 1/4 yd (or 42 in square)