Fit for a Queen Quilt :III-Expansion & S&F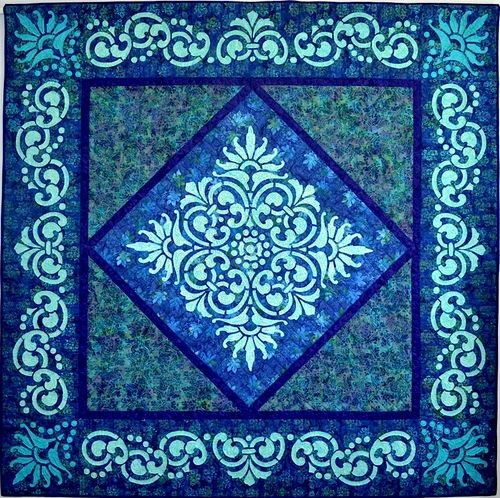 Dream At Your Leisure.
Reverse appliqué pattern – instructions for hand and machine applique and machine piecing
(89" x 89")
Make this luxuriously beautiful Queen-size Quilt (89" x 89"), in colors that make you feel like a Queen in your own home. This is an heirloom quilt that you can enjoy and then pass down through the generations of your family with pride.
Patterns come full-size and with complete instructions to create the reverse applique work by hand or machine. They are supported by Technique Tutorials for further help. You get:
Scroll & Fan, Medallion III - $24.00
Fit for a Queen Expansion Pack III - $28.00

Finished dimensions: 89in x 89in

Materials Required for complete Fit for a Queen - Quilt III:

Scroll & Fan Medallion III pattern

(included in purchase)
Top Fabric and Binding:
Dark Fabric no. 1 - Top: 5 2/3 yards
Light Fabric - Background: 5 2/3 yards
Dark Fabric no. 2 - Sashing and Binding: 1 7/8 yards
Medium/Dark Fabric no. 3 - Setting Triangles: 1 5/8 yards

Backing Fabric and Batting:

97in x 97in square (3 yards of wide back)

For Machine Applique Version Only: Iron-on fusible in the following amounts:

4 strips - 14.5in x 61.5in
4 squares - 14.5in x 14.5in
42in x 42in square (for medallion)