Comfort Color dyed long sleeved t-shirts s-m-l-xl ( berry shown)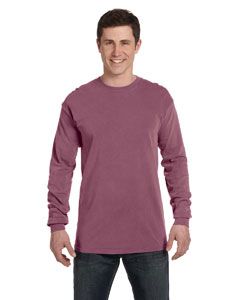 ( see color charts ) Our comfort color sweatshirts have alot of the same colors so you can check out that color chart if it helps you
Our Stitch and Rip jackets are the most fun part of sewing ! This is a way to get really creative , not so much on the table , but , under the sewing machine . Its easy to draw out the pattern onto the doubled shirts but when sewing , it's even easier to get creative and put in more patterns right then and there . This jacket creates alot of stimulation on the creative side of you brain , it's really a fun project !
Two long sleeved t- shirts become a medium weight , longer jacket , that is heavy enough to accommodate a metal tooth zipper . We have alot new designs coming out !
We carry the Comfort colors and Gildans , these two brands compliment each other , and fit together neck to neck , shoulder to shoulder and underarm to underarm. So you can use one of each to do the jackets , 2 comfort colors , or 2 gildans .
Finally these are such nice and comfortable shirts and the sleeve lengths are perfect , so buy some for yourself or someone else !