Amidala's Flower Mini- Quilt:X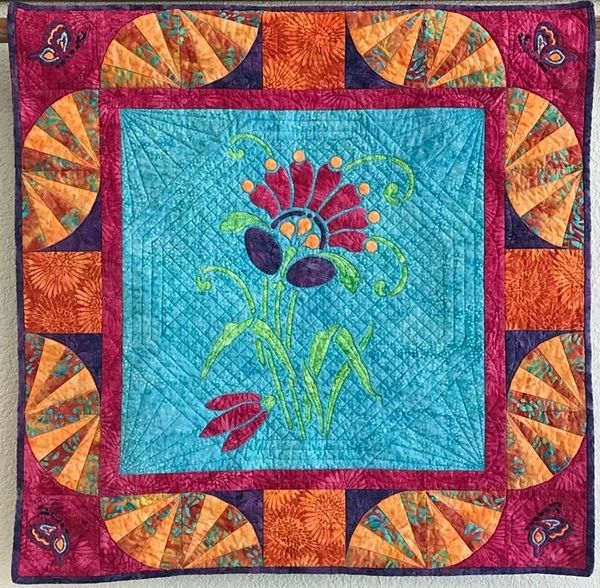 A Fantastical Flower For The Princess In You
Reverse appliqué with appliqué pattern – hand or machine
(28" x 28")
Premieres at Spring Market 2017!
First designed for Island Batik, Spring 2017, now you can create your own fantasy flower with butterfly corner blocks by hand or machine with Amidala's Flower mini-quilt(28" x 28"). Reverse applique and applique for colorful dimension, plus a blog on www.eobquiltdesign.com, "Embellished Amidala's Flower", for more fun, creative embellishing ideas using embroidery and Swarovski crystals.
An Intermediate project that comes with complete creation directions and full-size pattern pieces. There's never any reason to enlarge or re-position as you trace with our reusable patterns.
finished dimensions:28 in x 28 in
Designed for Island Batik, Spring 2017 in the Empress Garden Collection
materials required:
Fabric for Top & Binding: :
5/8 yard - Turquoise (sku: 111716609)
5/8 yard - Spring Green (sku: 111717615)
1/2 yard - Hot Pink (sku: 111713330)
1/2 yard - Lt. Orange (sku: 111721215)
1/2 yard - Orange with turquoise swirls (sku: 111721220)
1/2 yard - Medium Purple (sku: 111718475)
1/3 yard - Dark Orange (sku: 111713250)
1/8 yard - Dark Purple with swirls (sku: 111721480)
backing fabric: 1 yard (36" x 36")
Batting: 36" x 36"
For hand creation: Thread- Basting: button or quilting thread in contrast color to top fabrics; Applique: stitching thread in same color as top fabric; Needles- Basting: No. 7 Sharps; Applique: No. 11 Milliner's
For Machine creation: Paper backed iron-on fusible, recommend Soft Fuse: 1 - 18.5" x 18.5" square, 3/4 yard for applique of blossom petals and butterflies; Thread- same color as top fabrics for applique