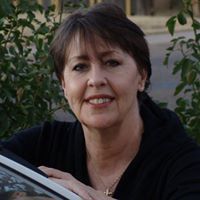 Meet Barbara Crawford, not only the designer but the owner of Crawford Designs " Sewing made Simple " pattern line.  
 Barbara has been in business for close to 25 years, after a 7-year stint working for Donna's Dolls in Valley Junction in West Des Moines, Iowa and Indygo Junction.  Barbara branched out on her own designing her own dolls, and over the years as times change and tastes change she found her niche in Applique and designing sweatshirt and t-shirt transformations. 
  Barbara is a National and Internationally recognized instructor, traveling the United States, and Canada.  She even has her things in a little store in Italy. 
    It has always been her desire to create simple patterns, that beginning sewers can follow ,  but will also catch the eye of the seasoned sewer.