7 bags of Angelina fibers , all different colors and 20 small sheets of applique pressing sheets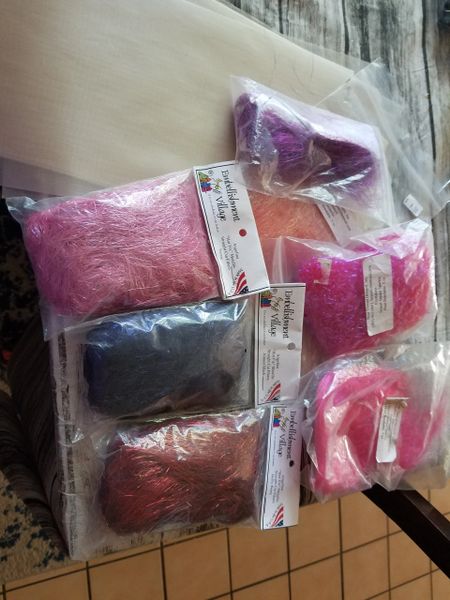 THERE IS A $10 MINIMUM PURCHASE ON THE SITE , SO MIX AND MATCH , 
ANGELINA FIBERS ARE COLORFUL WHISPS OF MYLAR , THIS WHERE SULKY WATER SOLUBLE STABILIZER CAN BE HELPFUL , YOU CAN TRAP IT UNDER THERE AND DO ALOT OF FREE MOTION SEWING OVER THE FIBERS RINSE IT OFF LET DRY AND PUT TEFLON SHEET OVER IT OR TISSUE PAPER AND WARM IRON AND IRON IT THE ANGELINA MELTS AND CREATES A BEAUTIFUL LOOK TO YOUR CLOTHING OR FABRIC .  YOU CAN ALSO USE THE APPLIQUE PRESSING SHEET AND MELT IT INTO A SHEET , USE A RUBBER STAMP AND INK AND STAMP OUT FOR EXAMPLE A DRAGONFLY AND THEN CUT OUT IT AND GLUE ON A PIN .  THE APPLIQUE PRESSING TEFLON SHEETS ARE ALSO GREAT TO LAY YOUR GLUE GUN ON IT WILL PEEL OFF WHEN COLD .