#208" Free Spirit" with 2 option collars ( pattern)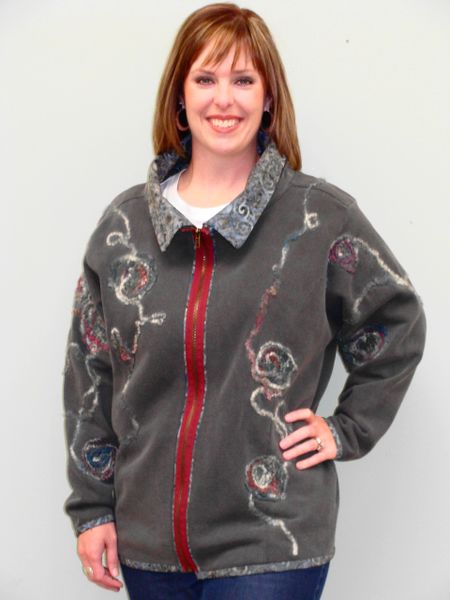 #208 Free Spirit pattern-  Fitted with princess seam lines from and over sized quality sweatshirt , this jacket is fitted , classy , and slimming .  
The free spirit is the yarn that we used by couching it all over , a contrasting zipper that is sewn to the outside in keeping with today's trends and adding another element of color to bring in the yarn and the shirt color , and trimmed with bias tape that was made from batiks ( find fabric on batiks page ) ( go to sweatshirt page for shirt colors and size ). This designs has two collars to change up the look , The stand up ribbed collar by using the waist ribbing from the shirt , and the regular collar that can be snapped in over the ribbed collar to give it a traditional collar look . 
  Here is the key to a fitted jacket from a sweatshirt , always start with one or even two sizes larger to give you enough shirt to cut up .  If you wear a large then use xl , or 1 x and is some cases 2x.  Our patterns include a chart to fit your shoulders that makes is uniquely yours . We made everything simple to follow without having to have alot of sewing experience .  The pattern includes a chart of measurements so youv'e got me with you , and illustration, you won't have a bit of problem doing this 
Bundle and save available http://crawforddesignspatterns.com/t/bundle-n-save-with-kits-
Go to the Sweatshirt page to find quality shirts with unique colors . http://crawforddesignspatterns.com/t/pigment-dyed-sweatshirt-in-comfort-colors
Go to zipper page to match up a zipper http://crawforddesignspatterns.com/t/zippers
Go to Batiks page for the fabric to trim your jacket  http://crawforddesignspatterns.com/t/batiks
If you need a yarn to match then email me with your shirt color and zipper color and we will help you . http://crawforddesignspatterns.com/t/handspun-and-hand-dyed-yarns