NOT APART OF THE 6 PACK SALE #206" Esther" fitted convertible jacket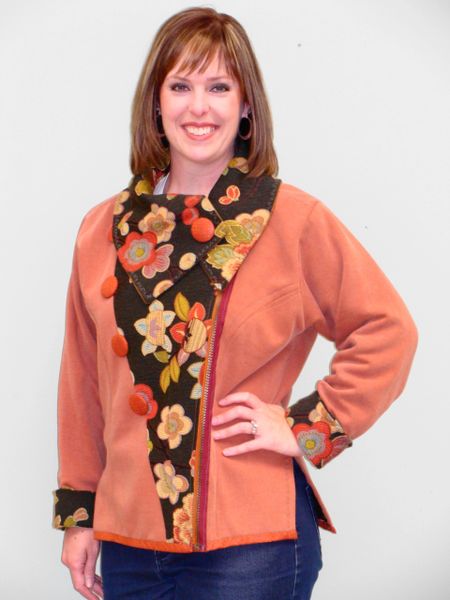 #206 Esther pattern - A convertible front gives you two ways to wear it .  The flap and collar is a home dec fabric we found to match the sweatshirt color , washed it a couple of times in cold water and fabric softener  .  This jacket is fitted , classic and very comfortable .  Closure on the slant front with the home dec flap , is a 24" zipper  ( we split a zipper to have two colors )  , covered buttons are sewn on to opposite side of flap . There are button loops made from the home dec fabric on inside flap . so ,that when converting the jacket in the other direction it buttons closed. Snaps are on the upper inside at  the corners . Finally trim the jacket with a coordinating fabric .
  Here is the key to a fitted jacket from a sweatshirt , always start with one or even two sizes larger to give you enough shirt to cut up .  If you wear a large then use xl , or 1 x and is some cases 2x.  Our patterns include a chart to fit your shoulders that makes is uniquely yours . We made everything simple to follow without having to have alot of sewing experience . 

Go to Sweatshirt page to choose color http://crawforddesignspatterns.com/t/pigment-dyed-sweatshirt-in-comfort-colors
Go to Batiks page to choose trim fabric http://crawforddesignspatterns.com/t/batiks
Go to zipper page to choose zipper color http://crawforddesignspatterns.com/t/zippers