#187 Black cat and pumpkin pincushion pattern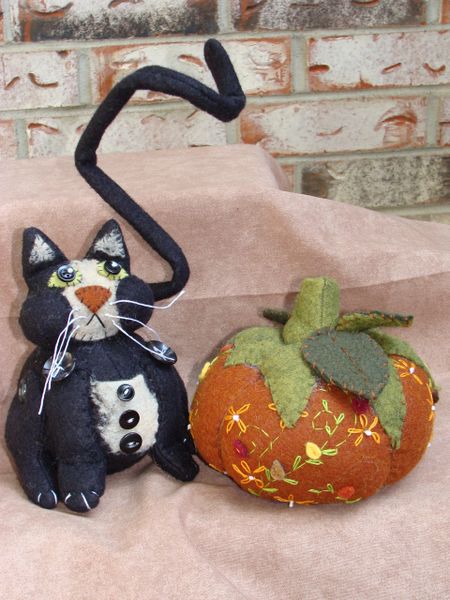 #187 Black cat and pumpkin pattern , contains both , our black cat is the same one in the 3 long tailed kitty's pattern , we decided to add it to the pumpkin pattern both are very sweet and easy to make from wool felts .  The pumpkin and cat are both filled with wool , polyfil and crushed walnut shells  to keep everything nice and sharp ! The cat tail is 16 guage wire , which will hold your scissors , and a thimble will fit on tail end ,  the cat has a breast pocket for thread snips and seam ripper , both have an optional pocket in the bottom center to put in a washer that makes it attachable to a magnetic bowl and creating a caddy for everything , pins, needles , safety pins even metal bobbins . 
For the black cat you need 1/4 yd of black wool felt ( the off white pocket and ears were done with our catch and release which releases the black dye ) and the pumpkin uses 1/4 yd of wool felts and both need a few small bits and pieces of wool felts from a scrap bag . 
Go to wool felts page for colors and cuts :http://crawforddesignspatterns.com/t/wool-felt-fabric--already-felted-and-ready-to-use
http://crawforddesignspatterns.com/t/notions