#166 Just Ruffles trendy jacket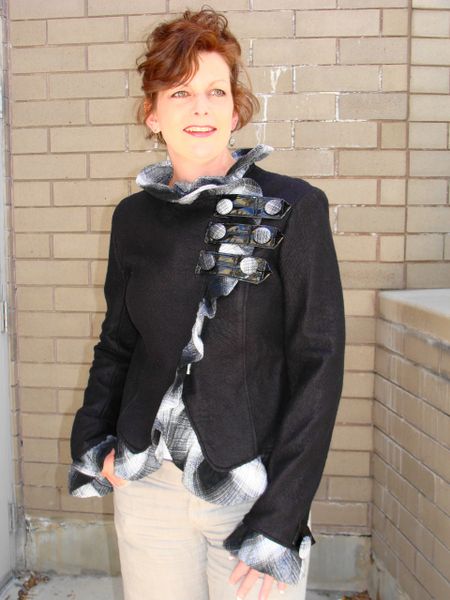 #166 Just Ruffles patterns , actually isn't just ruffles the easy to follow tissue pattern allows for no ruffles and that makes it appeal to a younger demographic or just a classic look ! So it's up to you how you want to do it . I love the ruffles and I love it plain .
There is a 18 Zipper hidden under the flap so half of the zipper is on the underside of slant front flap the other half is sewn down to the jacket . Our cute button plackets are made from shiny pleather I found at JoAnns fabrics that are easy to make and just fit right over the covered buttons .
Our ruffles can be made from different fabrics , it depends on what you make your jacket out of , we made this one from black wool felt so the ruffles we used was a combed cotton that looks and feels like flannel. That can be easily found at Jo Ann fabrics they are called Plaiditudes and a new series is introduced every September so check out your local store . You can make your jacket with our wool felt that comes already washed , shrunk and ready to use , or you can use a fabric of your choice
Go to wool felts page for colors and yardages http://crawforddesignspatterns.com/t/wool-felt-fabric--already-felted-and-ready-to-use
Go to zipper page to find zippers http://crawforddesignspatterns.com/t/zippers