#141 Whimsical seasons ( scarves , purses )DOWNLOAD ONLY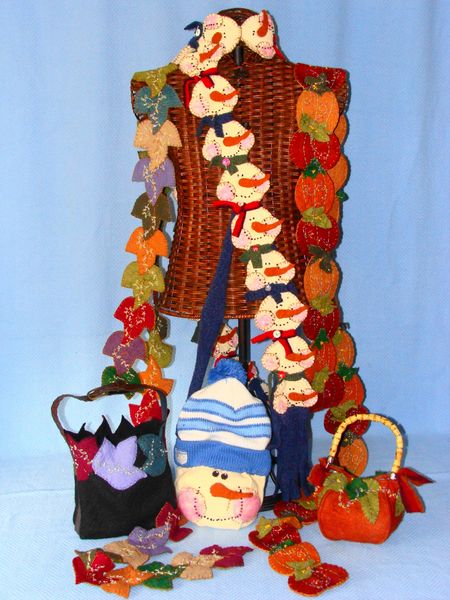 This terrific pattern includes 3 scarves and 3 matching bags , but don't stop there , how about seasonal table runners , candle mats ,garlands , and more .  This is one of our most popular craft patterns . We found a way to combine craft with wearables in a really great way .  Wool felts were used with perle cottons , can be done by hand or machine .  A great give idea as well . Machine washable  in cold water , gentle cycle , warm dryer .  
Fabric requirements :  the scarves have a solid fabric on back you need about 1/3 yd for each scarf back .  The fronts of the scarves , the same amount , then scraps for the the snowman scarves and face  and for the pumpkin leaves .   the purses are small the pumpkin a quarter , the snowman a quarter , the black back 1/2 .
find wool felts here : http://crawforddesignspatterns.com/t/wool-felt-fabric--already-felted-and-ready-to-use